In the "News" section of the Russian Science Foundation (RNF) website, a press release describing the electromagnetic research conducted by the staff of Research Station of the Russian Academy of Sciences in Bishkek city (RS RAS) at various sites of the Issyk-Ata fault (Kyrgyzstan) under the RSF project № 22-27-00567 was published.

Scientists in Kyrgyzstan have identified seismically dangerous areas of the active Issyk-Ata fault
Source: RSF Press office
Translation: RS RAS

Geophysicists have developed a geoelectric model that makes it possible to find areas in lithospheric faults where earthquakes are likely to occur. For this purpose, the authors studied the electrical properties of the earth's crust in the zone of 150-kilometer-long Issyk-Ata fault in Kyrgyzstan. The results of the study, supported by an RSF grant, were published in the scientific journal "Geophysics".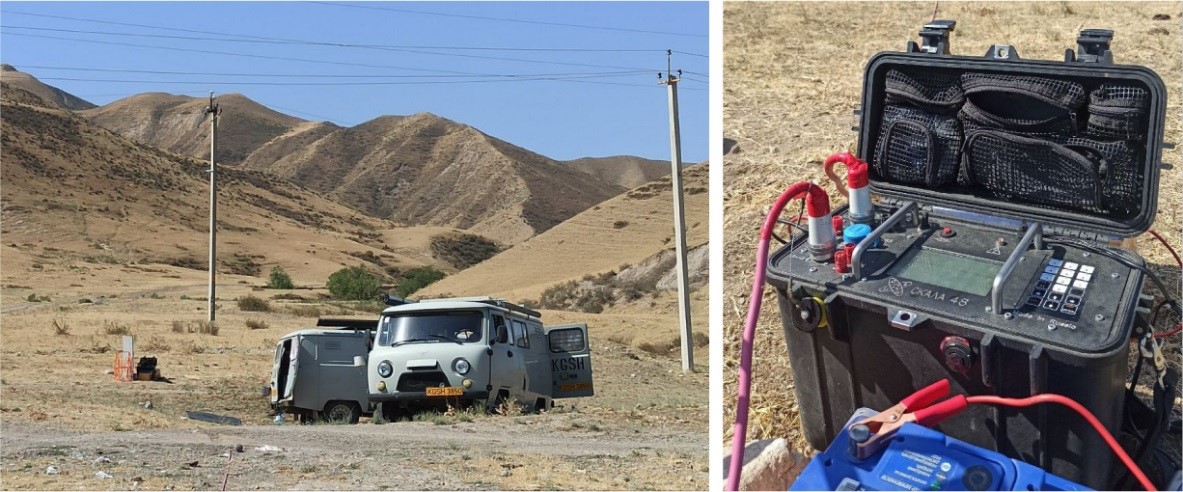 Last Updated on Wednesday, 27 September 2023 13:47
From August 29 to September 4, 2023, Group of Magnetotelluric soundings (GMTS) carried out monitoring observations on the territory of the Bishkek Geodynamic Proving Ground. This observations have been carried out since 2012. The observations covered the "East", "West" and "Center" profiles in the area of ​ Norus village. Using the Phoenix MTU-5 and MTU-5A measuring systems, the MTS group consisting of three teams carried out deep magnetotelluric sounding (DMS) work at three points, on the "East" profile at observation point E14, on the "West" profile at observation point W00 and on the "Center" profile at observation point C6, where the duration of registration of MT field in the GMT mode at each point was about 110 hours.
The start of work was preceded by calibration of recorders and sensors of MT stations. The testing of the measuring systems involved in these works for the identity of MT-field registration was carried out at point C6. To assess the level of interference and parameter settings for recording the work recording, a control recording lasting at least 40 minutes was preceded. The orientation of previous of the measuring installations completely repeated the previous deployments.